CUMMINS UNVEILS RANGE OF HYDROGEN TECHNOLOGY SOLUTIONS AT AUTO EXPO 2023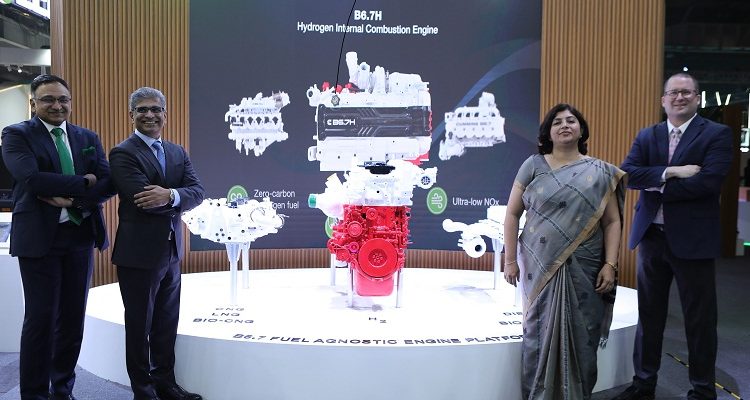 Cummins Group in India, leading power solutions technology provider, unveiled commercial vehicle industry's first fuel agnostic platform and its diversified range of Hydrogen Technologies power solutions at Auto Expo 2023 in India Expo Mart, Noida.
At the product launch event organised in the Cummins Group in India booth situated in Hall Number 15 of Auto Expo 2023, the company brought its Destination Zero strategy to life by unveiling low-zero emission products focused on decarbonization. The launch event was presided by senior officials from Cummins Inc and India where the leadership team reinforced that Cummins is actively working to transition its customers to products that ultimately eliminate carbon emission and will have the right products to serve customers throughout the transition.
With over a century of experience as a global power leader and a 6-decade presence in India, Cummins is solidifying its commitment of providing comprehensive zero-emissions technology along with other intermediate low carbon solutions on a global scale. Its multipath decarbonization approach is based on the premise that adoption of new technologies must address diverse customer needs such as power requirement, payload, range, and total cost of ownership economics, along with infrastructure and resource availabilities. Hence, rather than a one-size fits all solution, Cummins believes there are multiple approaches and technologies that can help in progressing toward the net zero goals.
Speaking at the launch event, Ashwath Ram, Managing Director, Cummins Group in India, said, "We share India's vision of 'Energy for Sustainable Growth' and achieving net zero carbon emissions by 2070. With a promising combination of our strong, global technological expertise and our deep understanding of the India market due to our 60 plus years legacy, we are well positioned to contribute toward India's aim of becoming a cleaner and greener 'Atmanirbhar Bharat'. We understand that the road transport sector has a major role to play in helping reduce emissions so India can meet its climate goals and we are deeply committed to play our part in powering nation's decarbonization journey. Our innovation can be seen in action through the range of solutions on display at Auto Expo this week and it reaffirms our commitment to Decarbonization. We will continue to work together with our stakeholders on low carbon and zero emissions solutions that further our shared goal of reducing our carbon footprint on the planet." Srikanth Padmanabhan, President Engine Business, Cummins Inc, said, "Realising a net-zero future will require a range of technologies and no one understands that better than Cummins. Our Destination Zero strategy considers the significant diversity of applications in our industry. We power some of the world's most demanding and economically vital applications. There is not a single solution or path to zero that will work for all these applications considering the variation in duty cycles and operating environments and locations. We must advance solutions in a way that secures a sustainable future for the industries that keep the world running. That's why we have developed the broadest range of ultra-low and zero-emission technologies dedicated to the commercial vehicle industry, which is being showcased at the Auto Expo."
Destination Zero is part of the framework of Cummins' broader PLANET 2050 environmental sustainability strategy, which also includes a focus on improving the communities the company operates in and using natural resources in the most responsible way.
At the Auto Expo, Cummins is showcasing the following solutions that demonstrate its commitment to power India's net zero ambitions and enable its customers in their energy transition journey.
Innovative fuel agnostic platform engineCummins is showcasing its fuel agnostic platform, demonstrating a practical way to reduce emissions now using technology that OEMs, fleet managers and operators are familiar with.
As it moves towards decarbonization, the company would need to work upon multiple technologies leveraging the currently available options of low and zero carbon fuels. This will provide options to the end users and give flexibility of adoption of them based on infrastructure availability, needs of the transport operations and yet optimising economics of the transportation.
The fuel-agnostic architecture utilises a common base engine with cylinder heads and fuel systems specifically tailored to fuel ranging from diesel, natural gas, renewable natural gas, and hydrogen. The platform offers OEMs common engine architecture across multiple fuel types resulting to a high degree of parts commonality.